Angle Type Globe Valve CSG25 PN40 DN65 Handwheel
Angle Type Globe Valve CSG25 PN40 DN65 Handwheel
Angel type bolt bonnet construction globe valve. Norminal diameter DN65 and norminal pressure PN40. Raised face flange and handwheel operation. GSC25 cast steel body material. DIN3356 globe valve design standard.
Product Description
| | |
| --- | --- |
| Type | Globe Valve |
| Size | DN65 |
| Pressure | PN40 |
| Construction | Angle Type, Bolted Bonnet |
| Connection | RF Flange |
| Operation | Handwheel |
| Body Material | GSC25 |
| Design Norm | DIN 3356 |
| Face to Face | DIN 3202 |
| Test & Inspection | EN 12266 |
| Applicable Medium | Water, Oil, Gas |
| Temperature Range | -29℃~+427℃ |
| Origin | China |
Angle Type Globe Valve CSG25 PN40 DN65 Handwheel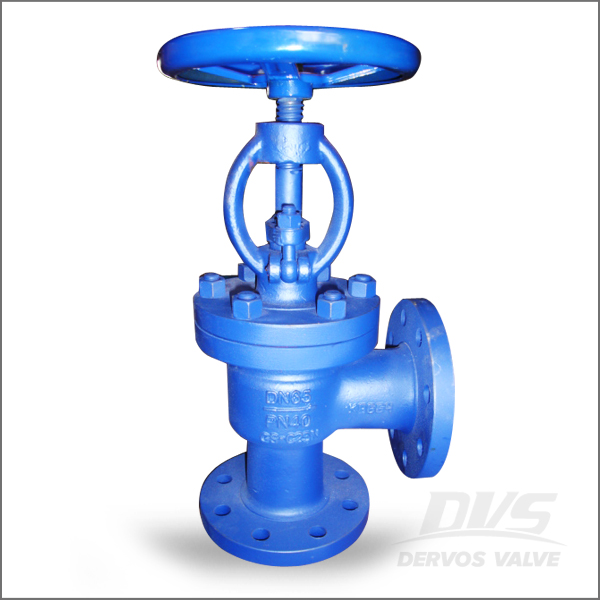 A brief introduction to angle stop valve.
The angle-type globe valve opening and closing member is a plug-shaped valve flap having a flat or tapered surface, and the valve flap moves linearly along the center line of the fluid. The movement form of the valve stem has a lifting rod type (the valve stem is lifted and lowered, the hand wheel does not move up and down), and there is also a lifting rotary rod type (the hand wheel and the valve stem rotate together and the nut is set on the valve body). The angle stop valve is only suitable for full opening and full closing, and adjustment and throttling are not allowed. When the angle globe valve is opened, the opening height of the valve flap is 25% to 30% of the nominal diameter, and the flow rate has reached the maximum, indicating that the valve has reached the fully open position. Therefore, the full open position of the shutoff valve should be determined by the stroke of the valve flap. Angle globe valves are divided into three categories: straight-through, right-angle and DC-type oblique stop valves.